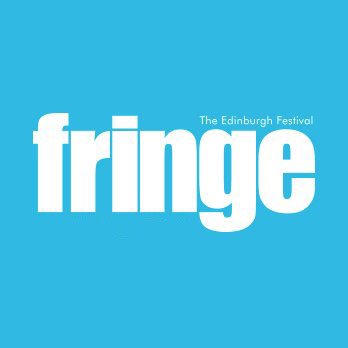 Magic Shows at the Edinburgh Fringe 2022
I'm really looking forward to performing again at this years Edinburgh Festival Fringe. I'm also very excited to watch live magic again, at the worlds largest arts festival. I've compiled a list of the top 10 magic shows at the Edinburgh Fringe that I'm really looking forward to seeing this year.
Before I get into my list though, check out my own show that I'll be performing at this years Fringe (shameless plug):
Elliot Bibby and the Magical Beach Ball will be my 9th show at the Edinburgh Festival and I'm performing back at magical Voodoo Rooms. This year I'll be supported by my faithful friend Barry the Beach Ball, to deliver an exciting new show full of wonder and amazement. Tickets available HERE.
Mysteries: An Hour Of Impossibility – The Voodoo Rooms, The Ballroom – 18:30
Cameron Gibson is back, after entertaining audiences around the world. Cameron is the lead magician at Jamie Allan's Illusionarium – the world's first fully immersive magic experience, currently in Toronto, Canada. In this new show for the Edinburgh Fringe, he will use his unique skills of mind-reading, psychology, mystery and magic to demonstrate extraordinary feats, leaving you with an experience you won't forget. Tickets HERE.
Stunt Magician – Sabotage – Liquid Rooms, The Warehouse – 14:30
Stunt Magician Danger Dave is back but someone is out to get him! Join this crazy performer for magic, stunts, and 'madcap comedy' at the Liquid Rooms this August. His previous show was a 'Sunday Mail Top 6 Pick' during the Adelaide Fringe in Australia, so I'm looking forward to see what he produces next! This show is part of the PBH Free Fringe, so make sure you get along early to secure your seat. More details HERE.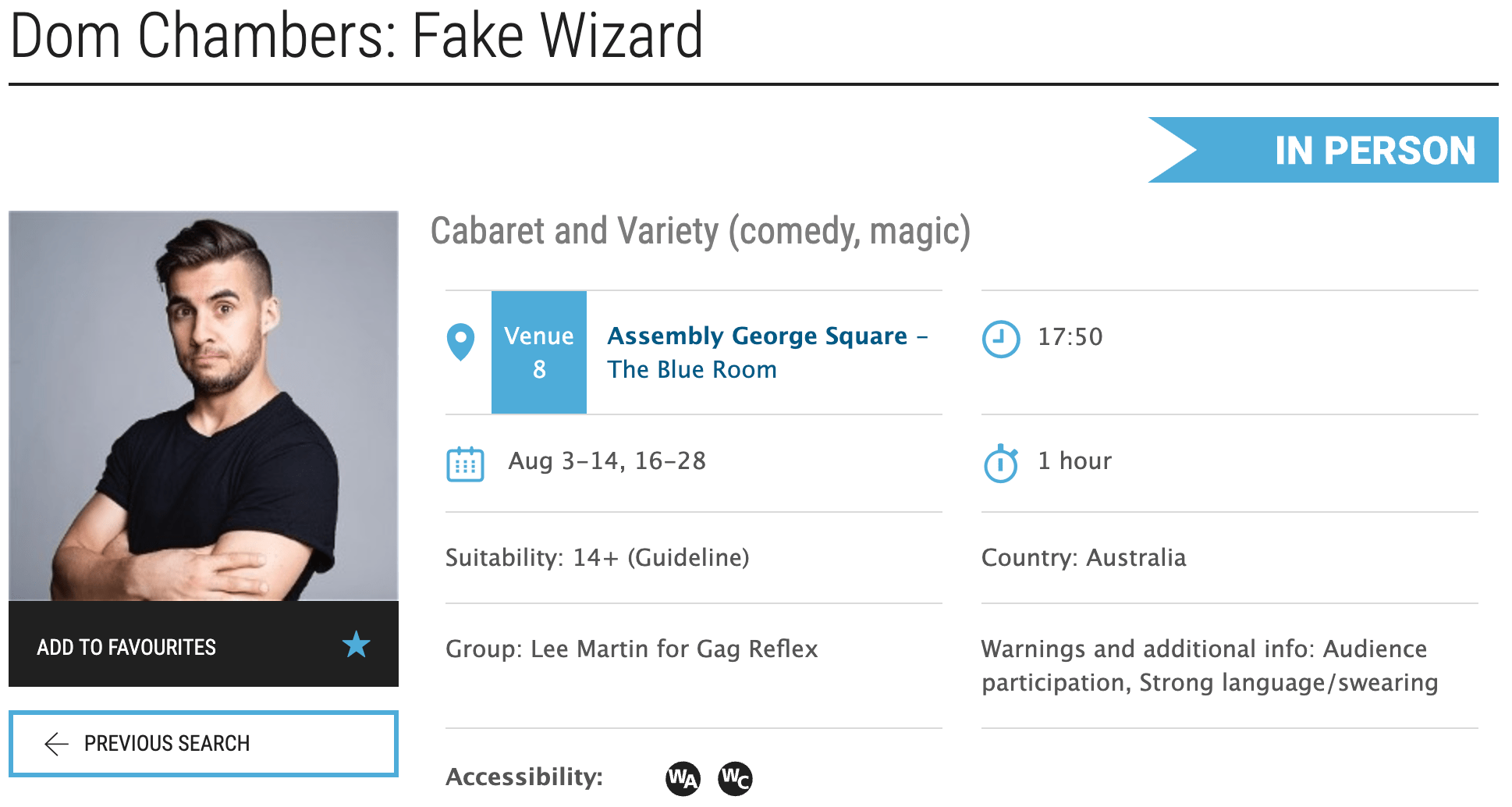 Dom Chambers: Fake Wizard – Assembly George Square, The Blue Room – 17:50
Dom Chambers has appeared on the popular show 'Penn & Teller: Fool Us' and reached the semi-finals of 'America's Got Talent' (the biggest talent show in the world!) This was the first time I'd seen the Australian perform and I thought his act was great! I'm thoroughly looking forward to seeing him perform at this years Edinburgh Fringe and maybe having a beer. Tickets available HERE.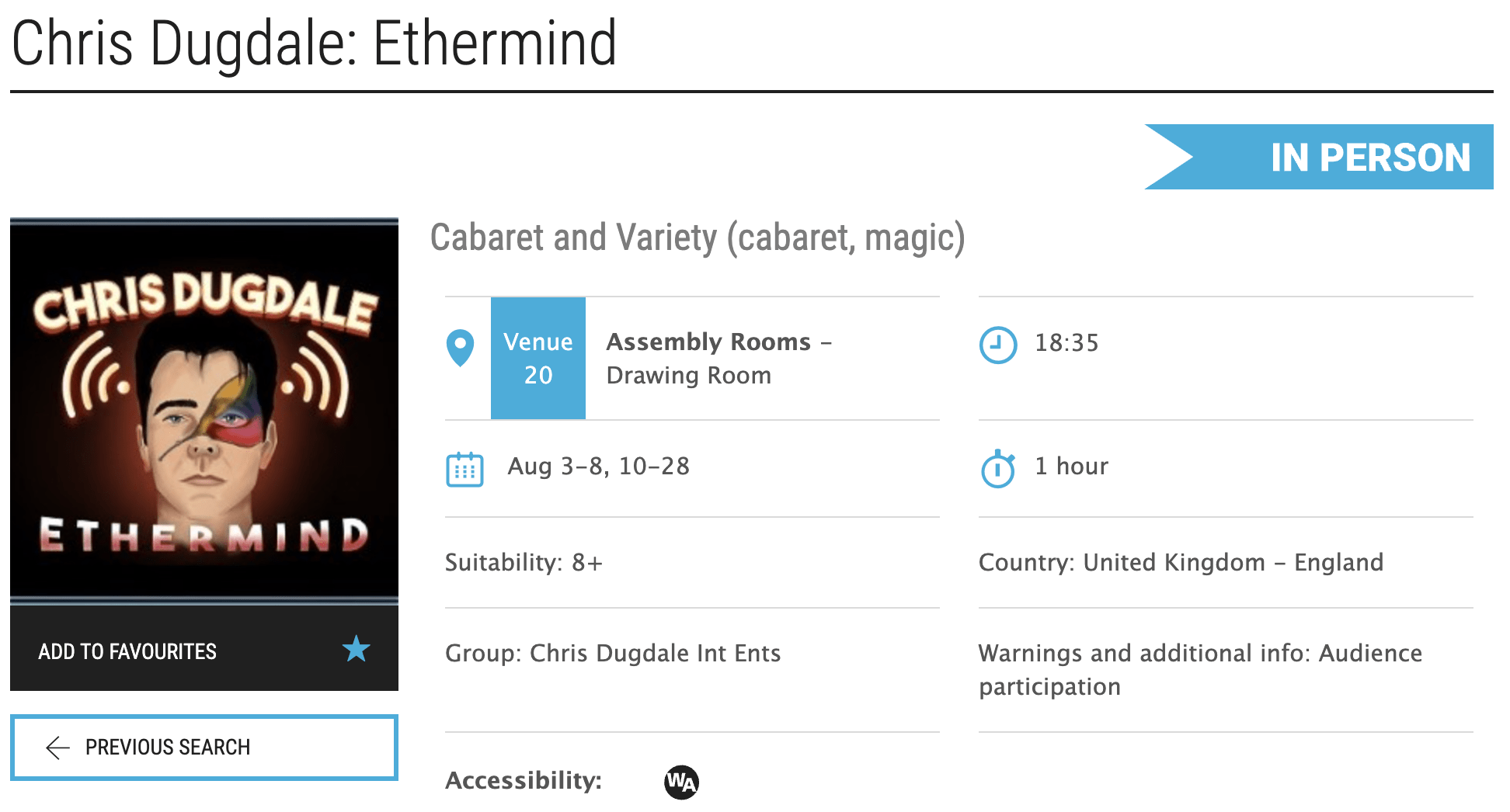 Chris Dugdale: Ethermind – Assembly Rooms, Drawing Room – 18:35

Chris Dugdale, 'WINNER of 4 Edfest Bouquets' at the Edinburgh Fringe and mind control expert. He's back with his new show 'Ethermind' which has been getting standing ovations around the world. He's performed for The Queen of England and for numerous celebrities including Sir Richard Branson, Beyonce, and Jimmy Page from Led Zepplin. Details HERE.
Magic Gareth's Magic Eye – Pleasance Courtyard, Cabaret Bar – 12:25
Magic Gareth is a family favourite – not only at the Edinburgh Festival – but all over Scotland. This show is one for kids of all ages (well 5+ to be precise) and promises to have some kick-ass, eye-bending magic! I can't wait to see what crazy antics Magic Gareth gets up to this year! Details HERE.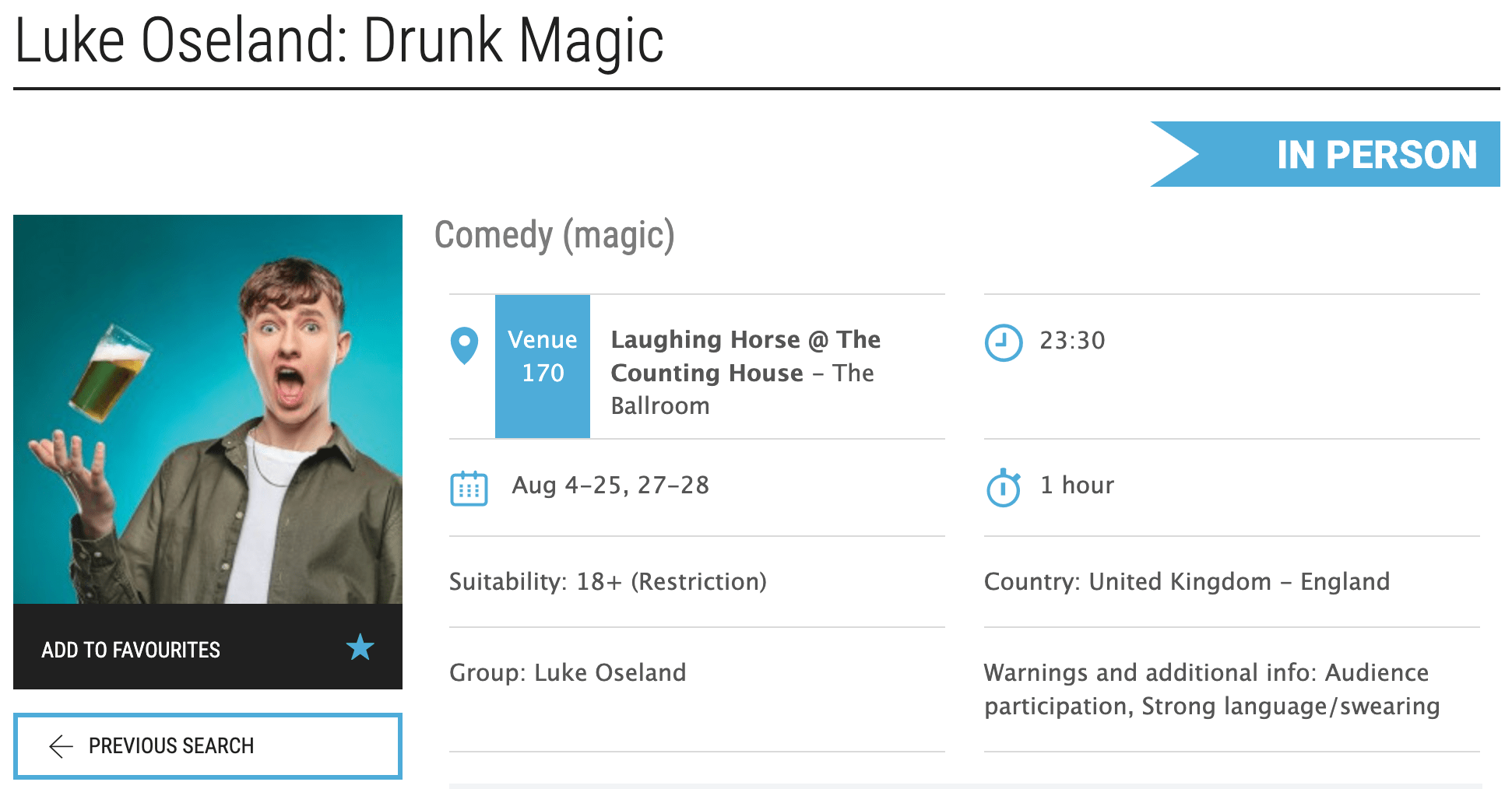 Luke Oseland: Drunk Magic – The Counting House, The Ballroom – 23:30
Luke is one of the most creative magicians I know. He's created tricks for DYNAMO and his social media videos have been seen by millions of people around the world. This is Luke's debut Edinburgh Festival and I'm interested to see how he is by the end (with this late night drinking show!) Details HERE.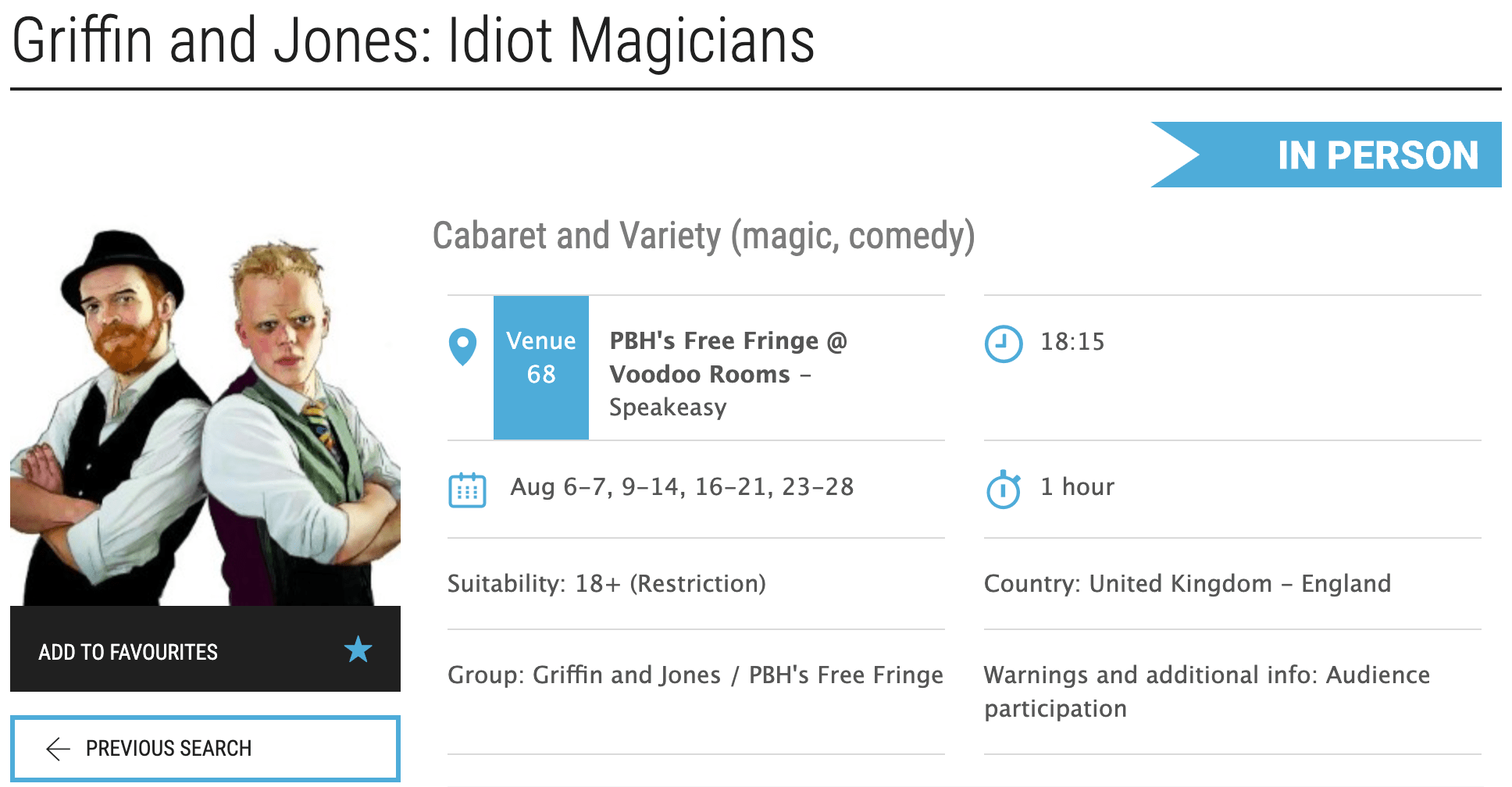 Griffin and Jones: Idiot Magicians – Voodoo Rooms, Speakeasy – 18:15
My favourite magical double act are back with their show 'Idiot Magicians'. As well as performing all around the world, "they have taken the time to study and master the noble art of idiocy". Griffin & Jones also host the famous Lock-In Cabaret which is definitely worth queueing early for! More details on 'Idiot Magicians' HERE.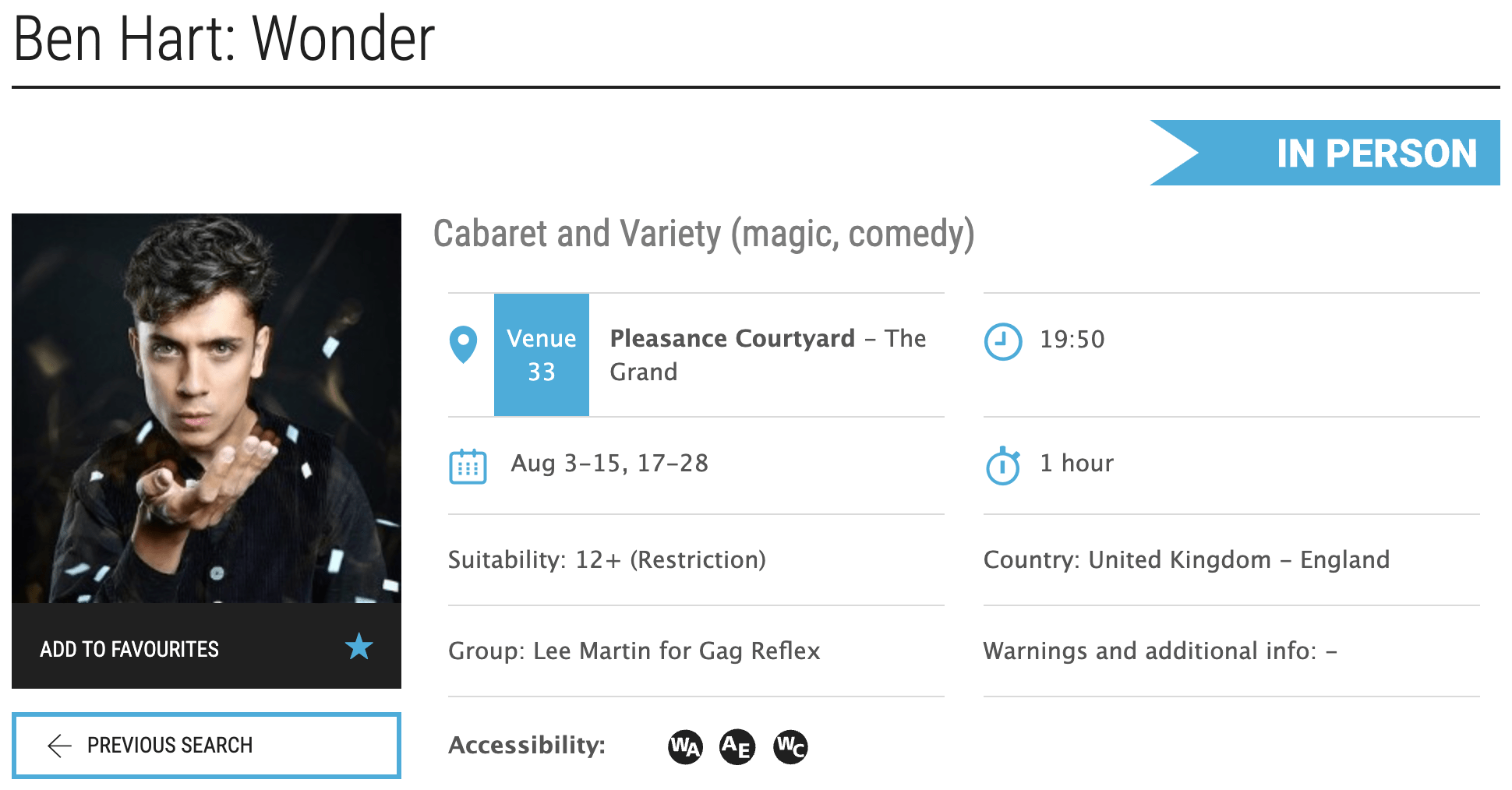 Ben Hart – Wonder – Pleasance Courtyard, The Grand – 19:50
Ben is one of the most talented magicians I know. His shows are always moving, thought-provoking, and filled with real magic. I was fortunate to work with Ben during the Edinburgh Fringe Magic Gala Show and see him perform daily. Star of the West End, and a Britain's Got Talent finalist, I can't wait to see his show this year. More details HERE.
The Magician, The Mind Reader, and The Nerd – Voodoo Rooms, The Ballroom – 16:40
Join myself, Tomas Mccabe (How To Read Minds) and Tom Crosbie (Nerd's Eye View) for a fun filled hour of magic, mind reading, and nerdiness! This show was a great success a few years ago when we trialled it, and I'm looking forward to sharing the stage again with these brilliant Fringe performers. More details HERE.