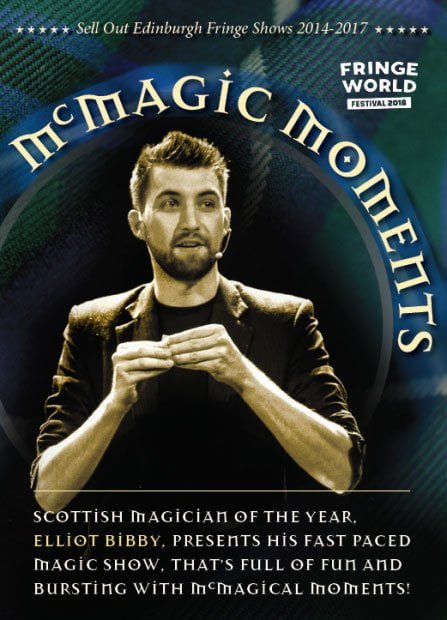 McMagic Moments – FRINGE WORLD 2018, Perth Australia
In February I will be travelling to Perth in Australia to perform my show 'Elliot Bibby Scottish Magician Presents: McMagic Moments'. This will be part of the FRINGE WORLD Festival which takes place from the 26th January until the 25th February. My show is in The Optimum which is part of the Urban Orchard in the Perth Cultural Centre, Northbridge.
McMagic Moments is part of the Showman's Fair which is an exciting new festival concept that will debut in Australia. The Showman's Fair will occupy the Urban Orchard and will see an array of pop-up theatre venues and small sideshow theatre venues. The Showman's Fair comes from FRINGE WORLD's friends in Holland and focuses on audiences engaging with a whole night of short and unexpected occurrences.
I'm excited to be debuting McMagic Moments at FRINGE WORLD. This is a brand new show filled with incredible feats of magic – all with a Scottish twist. "a cheeky, charming magician" ★★★★★ Edinburgh Spotlight
Tickets
Pre-sale tickets can be bought for $20 here.
Limited pre-book tickets are available. If the session you would like to come to is sold out, you will still be able to attend the show. You can use four Showman's Fair Coins, which are available at The Showman's Fair Box Office.